About the video: Putting everything together in After Effects
Summary
"Regardless of the engine you have used to render, you will need to put all the frames together in After or other software. Here I explain how to do it and give a small touch to the color to make it more correct."
In this video lesson Zigor Samaniego addresses the topic: Putting everything together in After Effects, which is part of the Domestika online course: 3D Animation for Non Animators with Cinema 4D. Learn to create express animations for social media.
Partial transcription of the video
"después de unos cuántos cafés ya tenemos nuestro render terminado ahora con todos esos fotogramas vamos a ir a Tere te íbamos a juntarnos todos After Effects es un programa super potente para decirlo de alguna manera es como el photoshop pero del vídeo tenemos que traer aquí las imágenes que hemos renderizado para yo tenemos aquí el material con el que vamos a trabajar aquí tenemos una previsualizacion del vídeo que era igual lo veis un poco pixelado y es porque podemos elegir la calidad de previsualización yo normalmente solo para últimas pruebas lo pongo en calidad completa normalmente tr..."
We automatically generate this transcript and it may contain mistakes.
---
Course summary: 3D Animation for Non Animators with Cinema 4D
Category

3D & Animation

Software

Adobe After Effects, Cinema 4D, Octane Render

Areas

3D, 3D Animation, Animation, Character animation, Motion Graphics
---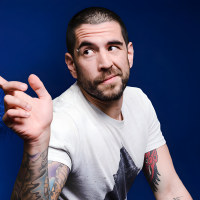 Illustrator and 3D designer
Zigor is an illustrator and designer specialized in 3D and creation of graphics for video games. He has worked for well-known clients in the elaboration of illustrations, graphics for games, advertising and editorial image; However, some of his most recognized works are those that he does in his personal capacity and that make him stand out in social networks.
In his portfolio it is easy to find all kinds of creatures, of all kinds of shapes and textures, that roam freely for the bestiary, often animated, that has been building during his remarkable professional career.