About the video: Presentation
Summary
"In this lesson I introduce myself and show you my latest works, especially those of animation."
In this video lesson Zigor Samaniego addresses the topic: Presentation, which is part of the Domestika online course: 3D Animation for Non Animators with Cinema 4D. Learn to create express animations for social media.
Partial transcription of the video
"que venías a este curso de Domestika sois igual Samaniego soy ilustrador 3D alguno de vosotros ya me conoces otros cursos y en esta lección os voy a hablar un poquito de mí empecé en esto del 3D alrededor del 2003/2004 por aquel entonces se hacía muchísima infarct ahora en casi todo el 3D que se hacía entonces era destinado a pues a nuevos edificios y visualizaciones 3D de casas que aún existía después me pase al mundo de los videojuegos y poco a poco me fueron pidiendo cosas más en el mundo de la publicidad ahora mismo me dedico casi íntegramente a la ilustración 3D y soy conocido por el d..."
We automatically generate this transcript and it may contain mistakes.
---
Course summary: 3D Animation for Non Animators with Cinema 4D
Category

3D & Animation

Software

Adobe After Effects, Cinema 4D, Octane Render

Areas

3D, 3D Animation, Animation, Character animation, Motion Graphics
---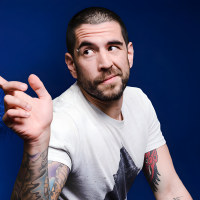 Illustrator and 3D designer
Zigor is an illustrator and designer specialized in 3D and creation of graphics for video games. He has worked for well-known clients in the elaboration of illustrations, graphics for games, advertising and editorial image; However, some of his most recognized works are those that he does in his personal capacity and that make him stand out in social networks.
In his portfolio it is easy to find all kinds of creatures, of all kinds of shapes and textures, that roam freely for the bestiary, often animated, that has been building during his remarkable professional career.