Domestika Basics
5 courses
Top sales
By Iris Encina, Photographer and retoucher
98% Positive reviews (43)
1366
3h 3m
Audio: Spanish
Spanish /

English

/

Portuguese

Domestika Basics
5 courses
Top sales
Adobe Photoshop for Retouching Portraits
By Iris Encina
REBAJAS
78% Disc.
US$ 44.90
US$ 9.90
Learn to maximize your photo portraits with post-production
Domestika Basics · 5 courses
What will you learn in these courses?
Develop an efficient workflow in the post - production process is key to achieving professional quality and in portrait photography, this is often what differentiates a photographer Amateur one set. Iris Encina is a photographer and professional retoucher, and in this 5-course Domestika Basics, she will show you her method of retouching portraits in Adobe Photoshop, paying special attention to skin and hair.
You will start by entering Camera Raw, where you will give the first preparatory touch-ups to your photos before passing them to Photoshop. You will configure your workspace and adapt it to your needs.
In the second course you will start retouching in Photoshop and you will know tools that will become your best friends, such as the smoothie, the concealer brush, the clone buffer and the selection tools.
You will continue to discover the separation of frequencies, a process by which you can divide a photo into layers of texture and color to facilitate the cleaning of skins and color correction.
The fourth course will focus on Dodge and Burn tools, which will allow you to manipulate the exposure at specific points in a photo; In this way you will generate volume in them and improve the texture of the skin.
You will finish your learning by learning color adjustments and giving your personal touch to the photos through adjustment layers. Finally, you will learn to export your photographs for different formats, both web and print.
Technical requirements
⦁ A computer with Windows 10 or macOS 10.12 Sierra (or higher).
⦁ Adobe Photoshop CC (you can buy it or download the 7-day trial version on the Adobe website).
---
---
About Domestika Basics
Domestika Basics is a series of courses focused on teaching the most commonly used software by creative professionals worldwide. The courses are taught in an easy, step-by-step fashion.
The content has been meticulously curated and is intended for both, beginning students going into a new creative field and more experienced professionals who need to polish their skills.
Learn with top Domestika teachers through hands-on lessons, plentiful resources and incremental challenges that will allow you to see results from the very first day.
Domestika Basics will allow you to step-up your professional game and be prepared to score better projects.
Without prior knowledge.

Domestika Basics gives you everything you need to get started on a new creative field and become an expert on it.

Focused on the tool.

Discover its principles, techniques, and the tried-and-true methods you need to master it.

Learn fast.

With a straightforward, step-by-step approach, our outstanding professionals will teach you how to get the most out of the program.
---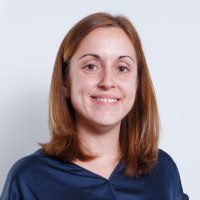 Photographer and retoucher
Iris Encina is a photographer, retoucher and teacher of photography and postproduction. During his studies of Fine Arts at the University of Cuenca, he discovered his passion for photography, being a student of the renowned photographer Luis Baylón. Since then he is dedicated to the profession.
She is a specialist in fashion photography and postproduction, and has always worked as a photographer although in different sectors. He currently works as a social and family photographer; He combines it with his work as a retoucher and teacher in Madrid.
Courses you might be interested in