Anticipation: Preparing the action
A course by Numecaniq

Graphic designer. Ciudad de México, Mexico.
On Domestika since 02/11/2016

, Graphic designer
Learn the 12 principles of animation frame by frame and bring your stories to life
Spanish

100% Positive reviews (145)
3536 students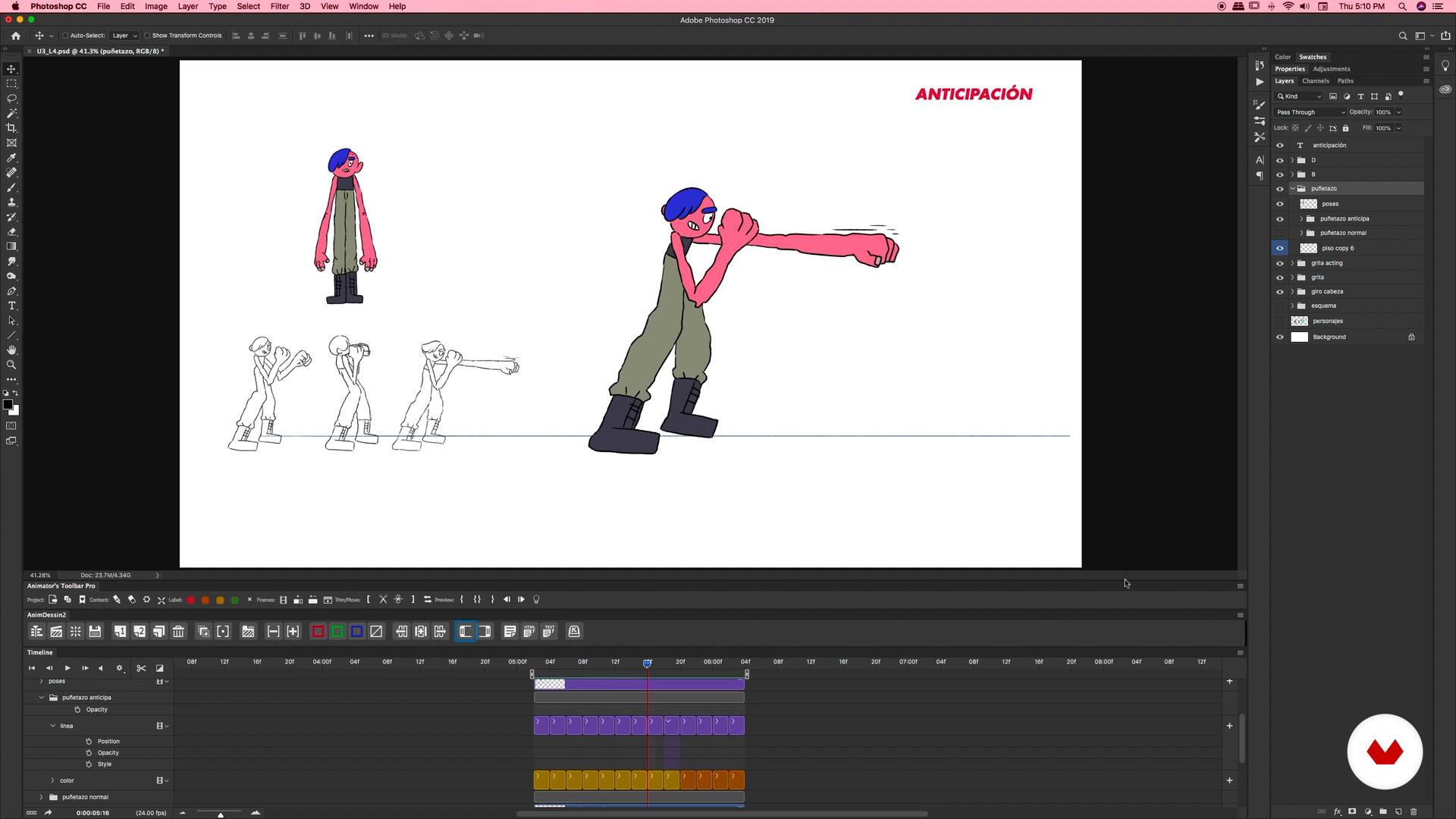 About the video: Anticipation: Preparing the action
Summary
"We will learn that anticipation is one of the most important principles and the beginning of all action, in addition, we will observe how it is closely linked with other principles that we have already seen. "
In this video lesson Numecaniq addresses the topic: Anticipation: Preparing the action, which is part of the Domestika online course: Introduction to Traditional Animation with Photoshop. Learn the 12 principles of animation frame by frame and bring your stories to life.
Partial transcription of the video
"en esta lección veremos que la anticipación de son los principios más importantes de la animación por qué es el preámbulo de la acción y nos ayuda a dirigir la atención del espectador vamos a darme lo primero que tenemos que entender es que la anticipación es la preparación para la acción ya que podemos distinguir dos maneras de cómo funciona la primera es la física y la segunda es la dramática o de acción en cuanto la parte física la tenemos que entender como es obtencion de impulso o energía para la acción y esta se manifiesta en la dirección opuesta es decir como lo dice el maestro Richa..."
We automatically generate this transcript and it may contain mistakes.
---
Course summary: Introduction to Traditional Animation with Photoshop
Category

3D & Animation

Software

Adobe Photoshop

Areas

Animation
---
Rodrigo Miguel, better known as Numecaniq, is a designer and animator specialized in 2D technique, frame by frame. To his training in the creative field we must add the philosophy studies he carried out at the UNAM.
His work has traveled around the world and has collaborated with brands and companies such as Adobe, MTV, Adult Swim, Warner, Amazon or Spotify, among others. In addition, he has participated in international festivals such as Pictoplasma in Berlin or the BDA awards in New York.
---
100% Positive reviews (145)
3536 students
Online and at your own pace
Audio: Spanish
Level:

Beginner
24 Lessons (4h 48m)
Available from the app
Unlimited access forever
---
Category
Areas