About the video: Analysis and game. Pencils and markers
Summary
"I explain the uses and textures that can be achieved with markers and watercolor pencils. We begin our notebook with a series of games, or steps, to create freely without obsessing with perfection. "
In this video lesson Adolfo Serra addresses the topic: Analysis and game. Pencils and markers, which is part of the Domestika online course: Illustration Techniques to Unlock your Creativity. Create an artist's portfolio and develop your own universe of pictorial resources.
Partial transcription of the video
"bueno en esta lección vamos a practicar con los lapices acuarelables con los rotuladores acuarelables y vamos un poco a experimentar todo lo que has ido contando del cuaderno como soporte para trabajar porque un cuaderno porque no importa que cometemos errores porque no importa que tenga que estar perfecto porque podemos jugar podemos inventar se nos puede ir un poco la cabeza y os voy a plantear una serie de ejercicios para que vuele un poco la imaginación y no estemos tan agarrados a la figura de un ser de un animal de una cosa otra de las cosas que también nos ha explicado que me preocup..."
We automatically generate this transcript and it may contain mistakes.
---
Course summary: Illustration Techniques to Unlock your Creativity
Category

Illustration

Areas

Art Direction, Character Design, Creativity, Design, Fine Art, Illustration, Painting
---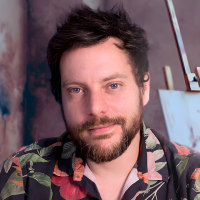 Adolfo Serra (Teruel, 1980) studied Advertising and Public Relations at the Complutense University of Madrid, but soon turned to what has been his passion since childhood: drawing, picking up pencils and watercolors at the School of Art 10 of Madrid. Since then his table has been filled with colors, papers, textures and stories.
He likes to experiment, play and above all, tell stories. It is considered an explorer of blank pages, which is constantly filled with illustrations focused on children and young people.
His illustrations have been selected at Bologna Children's Book Fair (Italy), Bratislava Illustration Biennial (Slovakia), Sharjah Children's Book Fair (United Arab Emirates), Ibero-American Illustration Catalog (Mexico), CJ Picture Book Awards (Korea), Mostra Internazionale d'Illustrazione per l'Infanzia Sàrmede (Italy).
His version without text of Little Red Riding Hood has been published in Spain, Germany, France and Mexico, obtaining various awards. He has recently been the winner of the 19th Illustrated Album Prize "A la orilla del viento de Fondo de Cultura Económica".