Domestika Basics
6 courses
Top sales
By Gemma Román, Illustrator
100% Positive reviews (51)
3235
7h 56m
Audio: Spanish
Spanish /

English

/

Portuguese

Domestika Basics
6 courses
Top sales
Adobe Photoshop for Illustration
By Gemma Román
78% Disc.
₡ 24,900
₡ 5,599
Learn from scratch to master Photoshop tools to create stunning illustrations
Domestika Basics · 6 courses
What will you learn in these courses?
A common question that most new digital artists ask themselves before they start creating is "Photoshop or Illustrator?" And the answer depends on many factors. Adobe Photoshop works with pixels - Illustrator, instead, with vectors - and may be more suitable for artists who intend to emulate traditional media such as pencil and paper or paint and canvas.
In this 6-course Basics you will learn, from the hand of the Mexican illustrator Gemma Román, to use the tools focused on the illustration offered by Photoshop, you will become familiar with artistic terms, learn to make and edit simple illustrations and create some own resources.
You will start by taking a tour of the software , from its installation and configuration, to the creation of a new document, discovering the workspace, the tools, the layer panel and additional resources.
In the second course you will begin to discover the tools to sketch, draw and draw. You will know the preset brushes and create your own, then draw with them. You will learn to scan your handmade sketches to transfer them to Photoshop and discover the selection tools to edit your sketches and use vectors in Photoshop.
The third course will focus on color. You will take a tour of the color library, the eyedropper and basic concepts such as hue, saturation, brightness and temperature. You will learn to adjust and edit the color of your strokes, organize the values and create color palettes.
The time will come in the fourth course, to paint without getting your hands dirty, where you will discover the tools that Photoshop offers to fill your drawings with color: with the paint bucket, gradients, strokes and textures, blending modes and filters, in addition to the Coloring brushes manually.
The fifth course of this Basics will focus on the final touch-ups of your illustrations. You will discover a series of tools such as focus, blur and finger tool, you will learn to bring your illustrations to life through light, you will highlight important elements through color and you will create seamless or seamless patterns .
You will end up learning to optimize your files for the medium to which you are going to export them. You will see how to create a final art for professional or homemade printing, and you will learn to export your illustrations for different digital formats, from a web or a PDF to an image for social networks.
Technical requirements
⦁ A computer with Windows 10 or macOS 10.12 Sierra (or higher).
⦁ Adobe Photoshop CC (you can buy it or download the 7-day trial version on the Adobe website).
⦁ A graphic tablet.
---
---
About Domestika Basics
Domestika Basics is a series of courses focused on teaching the most commonly used software by creative professionals worldwide. The courses are taught in an easy, step-by-step fashion.
The content has been meticulously curated and is intended for both, beginning students going into a new creative field and more experienced professionals who need to polish their skills.
Learn with top Domestika teachers through hands-on lessons, plentiful resources and incremental challenges that will allow you to see results from the very first day.
Domestika Basics will allow you to step-up your professional game and be prepared to score better projects.
Without prior knowledge.

Domestika Basics gives you everything you need to get started on a new creative field and become an expert on it.

Focused on the tool.

Discover its principles, techniques, and the tried-and-true methods you need to master it.

Learn fast.

With a straightforward, step-by-step approach, our outstanding professionals will teach you how to get the most out of the program.
---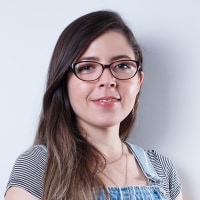 Gemma Román is an independent illustrator and artist of the Mexican lettering who has worked for clients such as Disney, Mattel, Claro Video or Cerveza Indio, although most of her work focuses on the illustration of Children's books for publishers in England, the United States, France and the Netherlands, among others.
His favorite tool to work, in addition to his hands, is Adobe Photoshop, a program that has become a faithful companion to his illustration process and that gives him the flexibility and power to express all his creativity.
Courses you might be interested in