Domestika Basics
5 courses
Top sales
By Alejandro Soriano, Architectural visualization and 3D modeling
100% Positive reviews (30)
2374
6h 24m
Audio: Spanish
Spanish /

English

/

Portuguese

Domestika Basics
5 courses
Top sales
Introduction to SketchUp
By Alejandro Soriano
REBAJAS
78% Disc.
US$ 45
US$ 9.90
Learn 3D modeling and design from scratch in a quick, efficient and professional way
Domestika Basics · 5 courses
What will you learn in these courses?
If you want to start shaping your ideas and communicating them in 3D, this design software is ideal, for its ease of learning and its good results for 3D modeling in a short time. In this Basics of 5 courses you will learn, from the hand of the specialized 3D visualization designer Alejandro Soriano, to master SketchUp from scratch to model in three dimensions, since it offers a set of tools with which you can work from the early stages of conceptual design until its final phase.
In the first course you will get acquainted with the software and learn the first tools; You will configure the camera, make your first strokes and see how to generate volumes. It will also be time to customize your keyboard.
You will start the second course by drawing, using polygons and multiple tools that will be useful for you to move, copy models, the selection and discover the types of volumes.
In the third course, you will learn to create and manage the groups and components, seeing how to integrate them on surfaces or orient them to the camera; You will see the components and solid groups. You will also learn to model with the scale and solids tool.
In the fourth course you will start creating your own materials: solid colors or textures. You will discover how to map a texture on a surface, adapt photographs with one or more points of view, and see the different graphic styles for SketchUp.
In the fifth course you will learn to combine schemes and layers, make sections and work the shadows. You will create and manage scenes, being able to save the views of a model and you can make animations for the scenes. Finally you will learn to export your 3D model and deepen the extensions.
Technical requirements
⦁ A computer with Windows 10 or macOS 10.12 Sierra (or higher).
⦁ SketchUp (you can buy it or download the 30-day trial version on the SketchUp website).
---
---
About Domestika Basics
Domestika Basics is a series of courses focused on teaching the most commonly used software by creative professionals worldwide. The courses are taught in an easy, step-by-step fashion.
The content has been meticulously curated and is intended for both, beginning students going into a new creative field and more experienced professionals who need to polish their skills.
Learn with top Domestika teachers through hands-on lessons, plentiful resources and incremental challenges that will allow you to see results from the very first day.
Domestika Basics will allow you to step-up your professional game and be prepared to score better projects.
Without prior knowledge.

Domestika Basics gives you everything you need to get started on a new creative field and become an expert on it.

Focused on the tool.

Discover its principles, techniques, and the tried-and-true methods you need to master it.

Learn fast.

With a straightforward, step-by-step approach, our outstanding professionals will teach you how to get the most out of the program.
---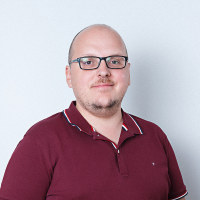 Architectural visualization and 3D modeling
Alejandro Soriano is a freelance designer [i] specialized in 3D visualization. His job is to produce images and illustrations of objects, buildings and environments, which have not yet been built.
He is interested in everything that has to do with 3D modeling, either through manual modeling or through other techniques such as photogrammetry.
He has worked for clients such as RBA or National Geographic, but generally works for architecture and interior design studios.
Courses you might be interested in
Domestika Basics

5 courses

By Josep Bernaus

Learn to use the essential tools from scratch to create interactive animations and bring your drawings and designs to life

Domestika Basics

6 courses

By Miguel Miranda

Learn 3D modeling from scratch and master the most used software in cinema, animation and advertising

Domestika Basics

6 courses

By Carlos "Zenzuke" Albarrán

Learn After Effects without prior knowledge and master the best software for motion graphics and post-production on the market

Domestika Basics

7 courses

By Álvaro Arranz

Learn to create 3D video games from scratch with the benchmark software