Domestika Basics
6 courses
Top sales
By Miguel Miranda, 3D modeler
100% Positive reviews (53)
2678
8h 39m
Audio: Spanish
Spanish /

English

/

Portuguese
CO$ 28.900
This offer ends on
78% Disc.
CO$ 129.000

Domestika Basics
6 courses
Top sales
Introduction to Autodesk Maya
By Miguel Miranda
78% Disc.
CO$ 129.000
CO$ 28.900
Learn 3D modeling from scratch and master the most used software in cinema, animation and advertising
Domestika Basics · 6 courses
What will you learn in these courses?
If you are passionate and want to get started in 3D modeling objects and characters, it is essential to master Autodesk Maya, the software 3D more widespread in the industry. In this 6-course Domestika Basics, you will learn from the hand of 3D modeler Miguel Miranda, to use all the tools that Maya offers from scratch, seeing techniques for modeling characters, creating materials and lights and rendering the scene.
First, you will become familiar with the work environment. You will start moving through the software learning where the menus and tools are organized. You will create your first camera and first 3D object, to start experimenting with it. You will learn to use the timeline.
In the second course, you will delve into all the tools necessary to model. You will be introduced to two essential menus, Mesh and Edit Mesh . Then, you will perform your first modeling, as well as an asset for a character.
Next, you will organize a scene and learn how to clean geometry in Maya. You will see and understand the ways of smoothing in 3D, and you will know the basic concepts about topology. Then, you will learn to use the brushes to sculpt your first character, in a simple way.
Then you will focus on working the parts and traits of the character, leaving it finished for its production. You will see the basics of topology for 3D animation, learning the basic tools, the importance of axes and directions.
You will start the fifth course by seeing which is the correct pipeline to finish a character in production. You will see what the UVs are, how to deploy them and place them correctly, so that you can finally do the UVs or the mapping of your character.
In the last course, you will create the lights of a scene and a set of render in Arnold to render your 3D objects and characters, and present them once modeled. You will discover the different textures and how to apply them. Finally, you'll see how to do blendShapes to finalize your character's face.
Technical requirements
⦁ A computer with Windows or macOS.
⦁ Autodesk Maya - version 2015 onwards - If you do not have it downloaded, remember that you can use the trial version.
⦁ It is recommended to have a graphics tablet.
---
---
About Domestika Basics
Domestika Basics is a series of courses focused on teaching the most commonly used software by creative professionals worldwide. The courses are taught in an easy, step-by-step fashion.
The content has been meticulously curated and is intended for both, beginning students going into a new creative field and more experienced professionals who need to polish their skills.
Learn with top Domestika teachers through hands-on lessons, plentiful resources and incremental challenges that will allow you to see results from the very first day.
Domestika Basics will allow you to step-up your professional game and be prepared to score better projects.
Without prior knowledge.

Domestika Basics gives you everything you need to get started on a new creative field and become an expert on it.

Focused on the tool.

Discover its principles, techniques, and the tried-and-true methods you need to master it.

Learn fast.

With a straightforward, step-by-step approach, our outstanding professionals will teach you how to get the most out of the program.
---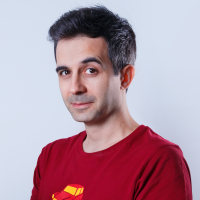 Miguel Miranda has been a 3D artist for more than 10 years, with his specialty modeling 3D characters. He has made characters for advertising, cinema, videogames cinematics, videogames and cartoon .
He has worked in several studios, although he currently works as a modeler at 23rd Monday Animation Studio and conducting assignments as a freelance.
Courses you might be interested in
Domestika Basics

7 courses

By Álvaro Arranz

Learn to create 3D video games from scratch with the benchmark software

Domestika Basics

5 courses

By Josep Bernaus

Learn to use the essential tools from scratch to create interactive animations and bring your drawings and designs to life

Domestika Basics

6 courses

By Carlos "Zenzuke" Albarrán

Learn After Effects without prior knowledge and master the best software for motion graphics and post-production on the market

Domestika Basics

6 courses

By Francisco Cabezas

Learn 3D from scratch to create unique characters and animations and render with OctaneRender